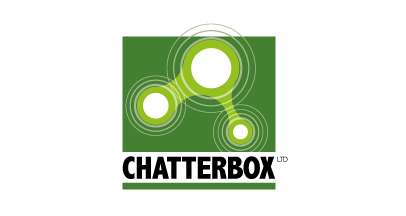 We repositioned Chatterbox and helped them to land
contracts with major Blue-Chip companies.
"The work we have done with Sugar has made us look and feel more professional and is a better reflection of our business. It's affected people's perception of the company and how they treat us. People increasingly seek our opinion on industry developments and want to do business with us."
Richard Blackwell
Senior Account Manager – Chatterbox Ltd
Activities we've undertaken for Chatterbox:
+ Paid search
+ Website development
+ Brand development
+ Content development
+ Case study creation
+ Email marketing
+ Marketing literature
+ Tender presentation
+ Social media

Projecting the right image
Looking and behaving like a serious player in the marketplace can be an important factor in gaining the confidence of potential customers, suppliers and employees, and for growing your business.
We've worked with two-way radio company, Chatterbox, to help them project themselves and develop a reputation as the established, knowledgeable, forward-looking radio communications company they are.
Sugar Marketing was tasked with:
Establishing Chatterbox as a market leader in two-way radio systems
Chatterbox has years of experience in designing and installing two-way radio systems. We    worked with them to leverage this and reposition the company.
Branding and promotion of Chatterbox two-way radio systems
We created a brand for Chatterbox and promoted it to key audiences, using case studies to illustrate.
Driving enquires for short-term hire
We used a Google Adwords search campaign and tailored landing page to generate enquiries.
Our results:
Sealing Chatterbox's reputation as key industry player: The company is now sought out as an opinion leader
Over five systems installations completed with major clients: Chatterbox installed systems with blue-chip companies as a result of our campaign
Generating a regular flow of enquiries: Since working with Chatterbox they've maintained and increased usage of their hire fleet of two-way radios
We would much rather talk to you than bombard you with copy, so if you're ready to move your business forward and think that we might be able to help give us a call and let us talk you through the different things we can do to grow your business